How to lose weight exercising at home
---
Are you looking for weight loss? But do not know how to begin with, do not worry in this article I am going to discuss some of the tips on how to lose weight by exercising at home.
Weight loss is not something going to happen overnight, it's a process that requires a lot of hard work with good proper exercising on regular basis with a well-balanced diet.
In this article, we are going to discuss exercise patterns that can help you to achieve your goal to stay healthy.
As there are the younger generation and adults all over the world who start their journey of weight loss but due to lack of timing with the busy schedule they are not able to hit the gyms or fitness centers.
Many of them pay the fees of membership and they not able to go to gyms, as results, most of us end up losing our hard earn money, if you have decided to do workout at home it is not a bad idea.
How to lose weight exercising at home 
Though I agree that gyms are the best place to start a fitness journey if for some reason you do not go to the gym it's always a good idea to do exercise at home as you can do many exercises that can be performed in the comfort of your home.
So now let us start with how you can do exercise in the comfort of your home that can help you to stay fit, healthy, and fine.
Also Read: Best protein foods with low calories 
---
About:

How to lose weight exercising at home
Walking:
It's the 21st century but still, this is one of the best exercises to start a weight loss journey, you do not need any equipment or do not have to spend money on it, you just have to walk which does also does not put a lot of stretching to your body.
The duration of walking depends on your overall weight, speed of your walk, and gender on how much you need to walk per day, but anything between 30 to 45 minutes walk can burn a good number of calories every day.
Some study suggests that around 30 to 40 minutes walk can burn 150 to 300 calories which excellent way to lose some calories, you can do it 5 days a week be it, men or women.
Note: This is just numbers you can even walk for 60 minutes or more as well depending on you, if do not have time to give specifically to walking you can do smaller things such as instead of cabs try to walk as much as you can, use stairs instead of lifts.
This smaller task also helps a lot in your weight loss journey, so walking is standing at first on our list of how to lose weight by exercising at home.
---
Running:
If you do not have much time for walking then running is another best option to go with as it does wonders for you, like jogging or running burns your calories quickly, so it is the 2nd best option on our list of how to lose weight exercising at home.
Let us suppose you run a mile in session you can easily burn about 90 to 140 calories depending on your weight and of course speed, If you do jogging for 20 minutes it will approximately consume calories about 150 to 200.
30 minutes of exercise running or jogging can burn 200 to 400 calories depending on your weight and intensity of running.
Do running for 5 days a week for better results and remember to keep a healthy diet.
---
Also Read: Best treadmill under 1000 for running 
---
Cardio:
Next on our list of How to lose weight exercising at home, is cardio there are many kinds of cardio exercise you can do easily as there is no one form of cardio, you have multiple options.
There is not as exciting as dancing to many of us, and how about if it's your hobby just tune in your favorite music and start doing the steps of the dance, it can help you to lose a high amount of calories per session.
I know that not everyone can do dancing efficiently so if you are one of them then not to worry, we have more options for cardio exercises as below.
Kickboxing, jumping jacks, squats, and burpees are excellent workout as it involves your entire body and also provides strength, you can just run in place, use stairs to run or jump squats if you are comfortable.
High-intensity interval training (HIIT) is also one of the most effective and popular exercises for weight loss, Jumping ropes is another best option for you.
Jumping ropes burn about 100 to 110 calories within 10 minutes of exercise, 10 minutes of jumping jacks can also be helpful to burn about 90-100 calories in 10 minutes, exercises such as mountain climbers can also shed some of the calories.
Note: The best idea is you can combine all these exercises in your sessions this can bring a lot of verities to your home workout.
---
More about How to lose weight exercising at home
Cycling:
Yes, I know here we are discussing How to lose weight exercising at home, but cycling too can help you to achieve your desired results, if it is possible doing outdoor cycling is the best idea there are many best bicycles online available you can use them.
If you are comfortable doing exercise at home or let us say you want to do indoor exercising, you can get easily one exercise cycle online there are multiple options available that are specially designed for an indoor workout.
You can get foldable exercise cycles if you do not have much space at home, 30 minutes of cycling can burn a handsome amount of calories about 290 if you are an adult having any knee injury it's a good idea to go with an air bike exercise cycle or recumbent exercise bike.
This kind of exercise cycle put less pressure on your joints, recumbent bike or air bike mostly has back seats as well so even if you have back issues you can use them easily.
---
Swimming:
Another very exciting exercise on our list of how to lose weight exercising at home after the dancing is swimming one of the lowest impact exercises and also an effective way to lose weight
You can easily join the classes for swimming if you do not know how to swim and can learn at the beginning, go slow and keep the intensity of the swimming in control and once you get used to it swim fast so you can burn maximum calories.
It will be highly beneficial for you if you can go in the morning before taking your meal, 5 days a week of swimming can be highly useful for your weight loss journey.
---
Strength Training:
30 minutes of weight lifting training can really enhance your body shape and will help you to lose weight, at the same time it ensures muscle growth and increases strength, and endurance.
I understand that you must be thinking about how you can perform the exercise without equipment, well there are multiple options you have you can easily get the best gym equipment sets online which can be useful for many years.
Just one-time investment and you can use it for years, if you do not want to get gym sets, then you can go for dumbbell sets, with only a set of dumbbells you can do many exercises, how to do gym at home you can read this article to know more about it.
---
Yoga: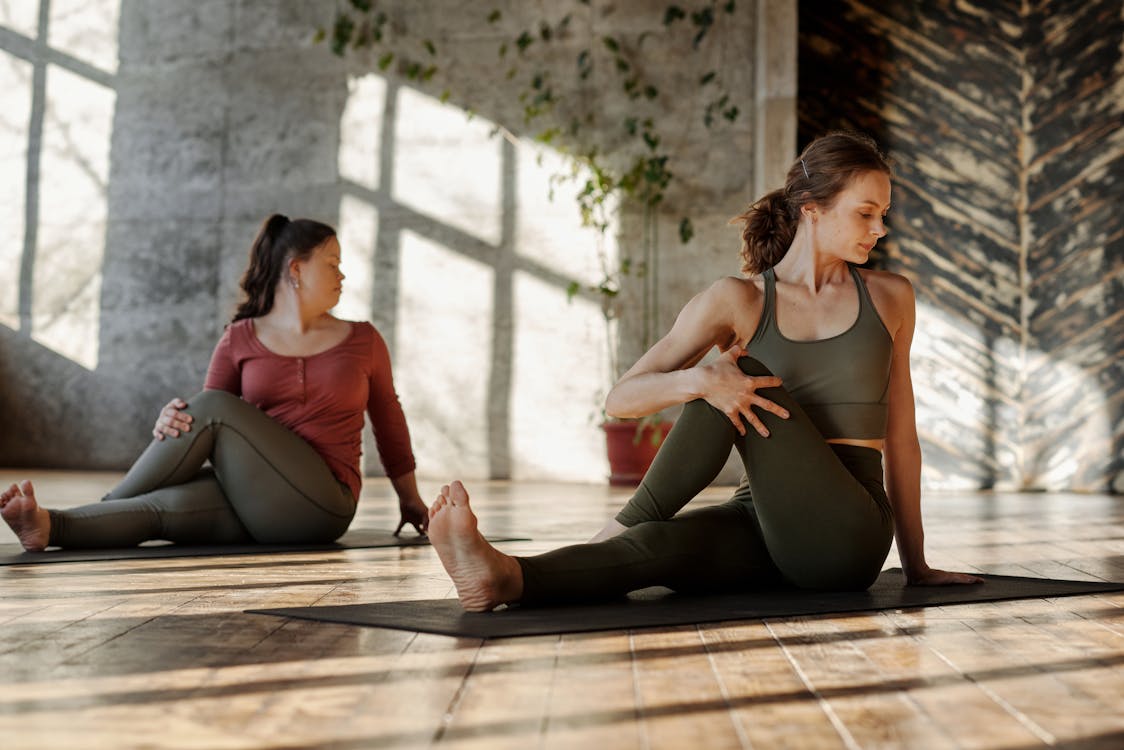 This is one of the oldest ancient time exercises that are very effective to keep your body in shape and it also provides a lot of flexibility to your body by strengthening your muscles, also a very good solution for issues such as back pain, arthritis symptoms, better for heart and most importantly reduces stress by promoting better sleep.
You may find it difficult at the beginning to balance your body but once you start getting used to it, you will do it easily, we have also written a detailed article on how beginners can do yoga poses you can read articles to know more about yoga.
---
Also Read: Best sustainable cork yoga mat 
---
Health benefits of weight loss:
If you are overweight or let's say out of shape then you should consider losing some weight in order to stay fit,  you must have heard Health is wealth, and that is quite true if you are living a healthy life you can enjoy each and every moment of your life, that is the most important thing.
There are many advantages of weight loss some of them are as below.
First, who does not like to look good? everyone does regular exercising and a healthy diet can bring you in shape which will change your looks and you will feel far more confident.

Helps in back pain if you are suffering from any issues, also good for joint issues.

A regular workout can minimize any kind of risk of cancer.

Keeps your heart healthy by reducing the risk of heart disease.

Improves sugar level. Cholesterol level helps in maintaining blood pressure.

Reduces the chances of osteoarthritis, and stroke.

Reduces stress and promotes better sleep so you can enhance the productivity of your work as it increases concentration.
---
Conclusion about How to lose weight exercising at home:
So here it is we have discussed some of the exercises that can help you to lose weight while concluding as we discussed earlier any kind of workout requires consistency and patience to see results.
Do any exercises but do it at least 4 days a week ideal will be 5 days a week, for 20-30 minutes, and most importantly follow a healthy diet to see results.
Hope this article How to lose weight exercising at home help you to get an idea about the workout, but if you have any question post your comments, we will be happy to help you and also if you like the information share it with your friends and family.