Best workout at home to get abs
---
Best workout at home to get abs 
Everyone loves to have a flat attractive belly, who does not like to lose some fats around your belly and achieve sleek abs but to reach there you need to have a lot of dedication, hard work, patience along with well-balanced diet.
It is not that difficult and impossible at all to get good looking abs, and the good thing is there are many abs workout that you can easily do at home even without any equipment, I am going to discuss some of the best workouts at home to get abs but before start discussing like to mention that if you are a beginner.
Then to begin with you may find it difficult to perform basic abs workout as well but the key to success not to give up, instead take tiny steps do fewer reps but do it correctly, and then once you start performing increase your reps.
So, hope you are ready to start your journey but you must be excited to know what basic accessories you require to do abs exercise at home just get one mat if you do not want to spend on other accessories for abs that is it and you are all ready to start the exercise.
Note: Below listed types of abs exercises are just for your information it does not mean you have to do all the forms, you can train your abdomen for 20 minutes after your weight training it will be good if you do 3 days a week, you should do 3 sets each.
If you are a beginner do 10 reps and increase as you grow your strength to 20-30 reps depending on how you grow.
Also read: how to lose weight exercising at home 
---
About: Best workout at home to get abs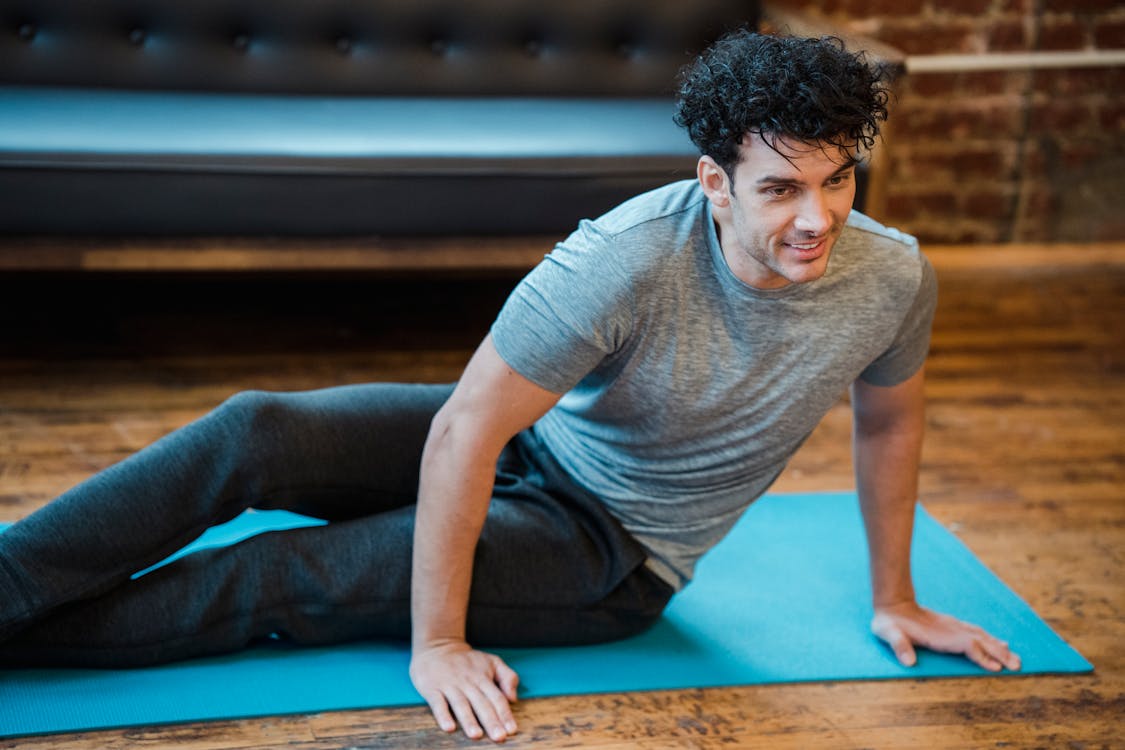 Crunches:  
This abs exercise is one of the most basic yet many advanced level performers do it regularly on abs day, crunches are very easier to perform just sit down on your mat balance your legs and lie down on a mat.
Keep your feet properly aligned on flat of the floor, keep your chest open and you can put your hands behind your head for support then start crunching up slowly, as discussed above begin with 10-12 reps and do 3 sets of crunches.
Also read: Best beginner cardio exercises for home
---
Mountain climbers:
Mountain climbers are easy workouts but involve your body, this is a very versatile workout you can perform while doing cardio or functional training and it is equally effective for abs.
Though it looks very simple many people do the minor mistake of positioning that does not give desire results, this exercise more focuses on our core training but the positioning of your arms plays a very important role in this workout.
Your shoulder should be at the right place that is perfectly aligned to your wrists, keep your balance at the same level from the upper side that is your head to heels, and do not forget to keep your back in a flatter position and start marching your legs up to chest level.
As a beginner starts with 3 sets and 30 seconds and then you can increase the time slowly up to 60 seconds or more.
---
Bicycle Crunch: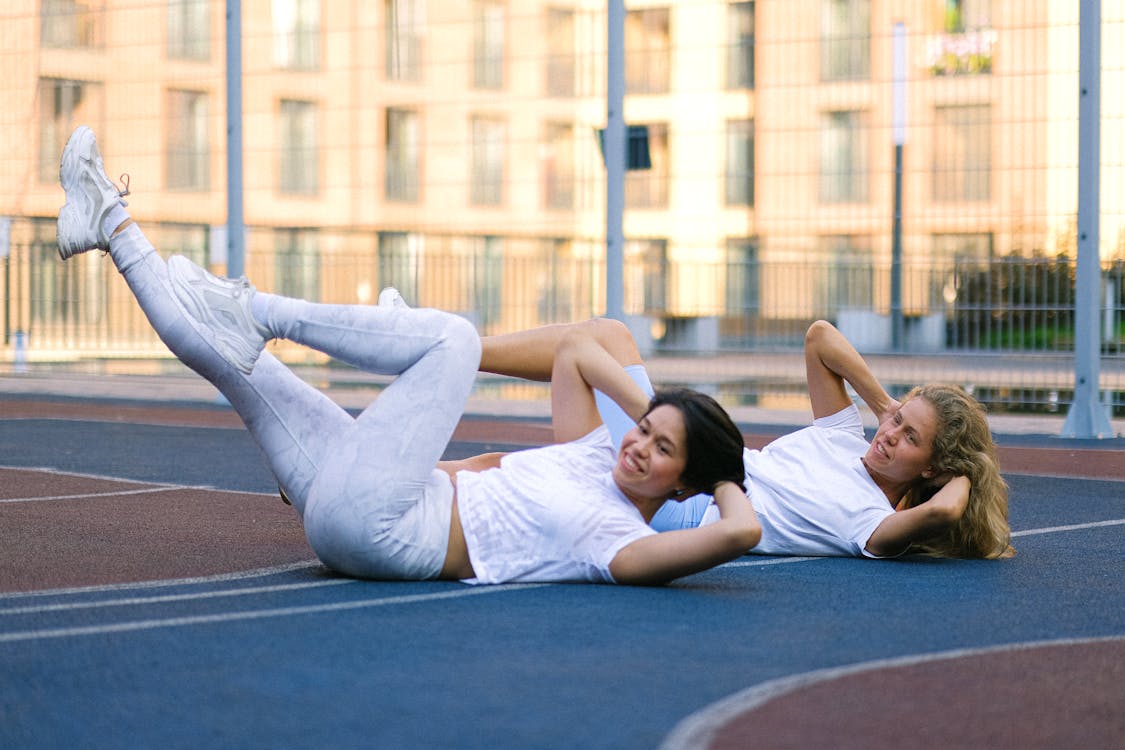 Next on our list of best workout at home to get abs the exercise that looks simple but one of the challenging, you just have to lie down in a straight sleeping position and keep your hands behind your head for smooth movement, make sure while raising your legs it is twisted 90 degrees.
Keep yourself relax before starting set, and start revolving your one side of elbow let us say left elbow towards the right knee when you stretch your left leg straight, make sure to do at least 8-12 reps as it is a very good workout to train your abs.
---
Reverse Crunch:
The next abs exercise at home you can do is reverse crunch lie down on a mat on your back, keep your feet at a 90-degree angle if a beginner you can not balance your legs take the help of a small table and keep your legs on it, keep your hands back of your heads and start doing your sets, when your elbow starts to come in at the same time your knees should come in.
---
Side Hip Bridge:
This is one of the very effective abs workouts that are easily performed at home, very simple looking but one of the tough ones on our list of best workout at home to get abs, lie down by keeping your top arm on the top of your hip.
Then try to elevate and uplift your hip little top of the floor, so basically you have to make sure while performing this exercise your body must be at the straight and the even level from your legs to head.
---
Russian twist: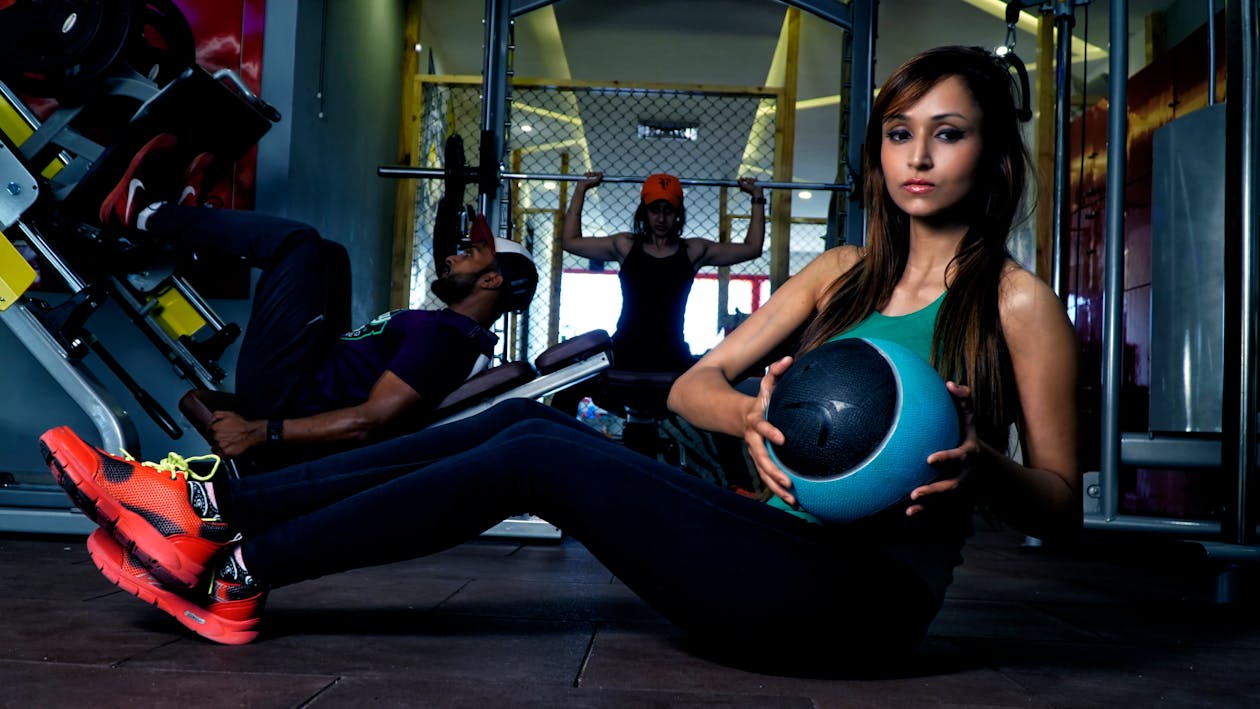 These basic abs workout good for a beginner, sit on the mat by keeping your legs at a 90-degree angle and lean or incline a little backside and uplift your feet a little from the floor, if a beginner can't balance your feet use a small table try to keep elevation about 45 degrees and start twisting.
Note: If you have dumbbells at home keep one in your hands for more engaging exercise.
---
Dumbbell crunch:
This is similar to crunches lie down on your back and keep one weight plates on your palms and start doing crunches, but hold with both hands near your chest and make sure it won't harm you and do crunches,
As a beginner do 8- 10 reps and 3 sets of dumbbell crunch.
---
Shoulder Tap:
Keep your position like you do push up, and start doing reps touch your one hand to the opposite shoulder and then keep your palms down on the floor keep doing the reps at the start do it 10-14 reps and do 3 sets.
---
Extended arm Plank:
Keep your body in a plank position but with your palms just like push up position keep your body a little higher, and make sure when you raise your right arm your left leg should lift at the same time and keep repeating opposite side, do 10-14 reps as per your strength.
---
Plank: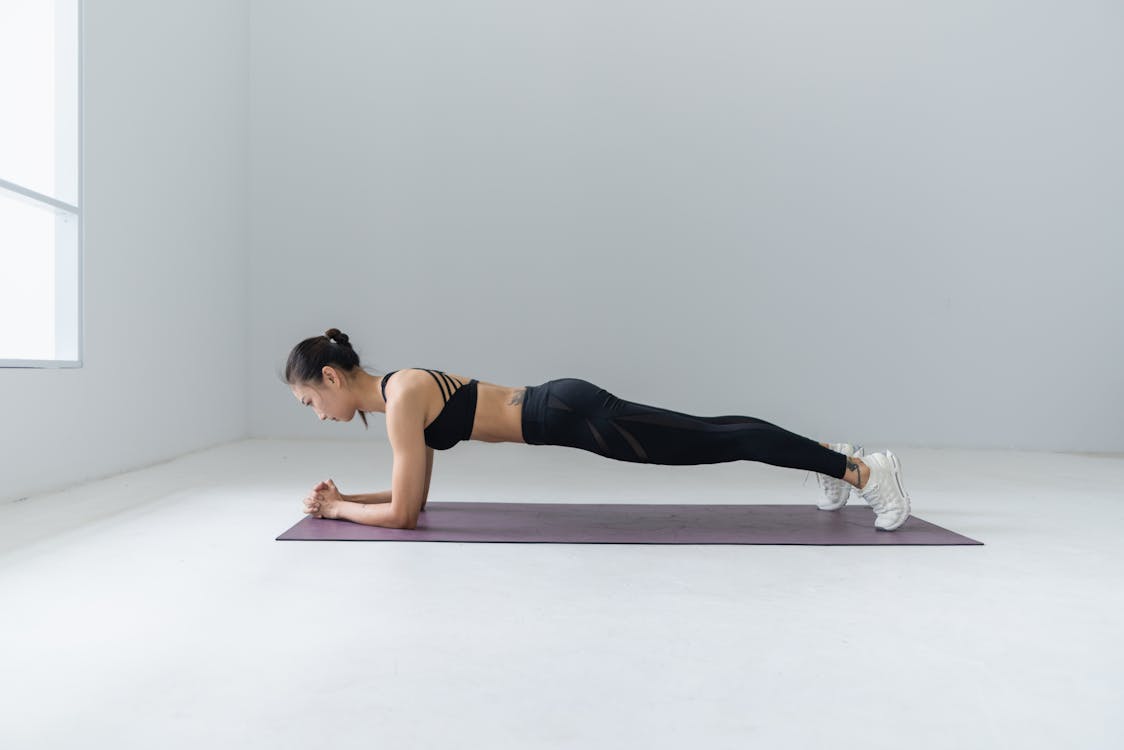 There are multiple types of planks you can start with 2 planks as a beginner, plank exercise provides strength to your core and you can do this workout at the end of your abs workout.
Do basic plank put your palms on the floor and extend your arms just like push-up position and another exercise you can do is place your forearms on the floor, start withholding for 30 seconds and you can extend up to 60 seconds.
Along with these 2 types of planks, you can do a side plank, climbing plank, and side-to-side plank and there are many other forms of the plank.
---
Plank toe touch:
This is another one of the best workouts at home to get abs and one of my favorites as well as it is one of those workouts that involve your entire body, keep your position similar to what you have done during extended arm plank.
Now try to touch your left hand to the toe of the right side of the leg, and keep repeating the same to the opposite direction by slowly returning to plank position, 10 to 12 reps of 3 sets are more than enough.
---
Conclusion:
So here it is I have covered some of the best workouts at home to get abs, as I discussed above it is not necessary to do all the workouts you can choose your abs exercises and do for 20 minutes and try to do abs at least 3 days week.
Hope you find the best workout at home to get abs and this article helps you to know in detail but if you have any query post your comments our bhealthyreviews.com team will be happy to guide you and if you found this article helpful share it with your friends and family.